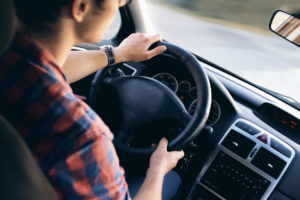 Welcome to DrivingToEarn, where we explore the various ways you can earn good money by putting your car to work for you, anything from a few-hours-per-week side hustle to a full-time gig.
Drivers all over the world are earning by partnering as independent contractors with companies like Uber and Lyft, and even delivering food with UberEats. We want to give you the resources you'll need to have the best opportunities for success as you get behind the wheel as your own money-making boss.
Regardless of which ride sharing service you choose to partner with (and don't worry, you can always try driving with both Uber and Lyft to compare), your wallet will thank you. Most drivers earn well above typical entry level wages, and with the benefit of being able to set your own schedule… drive when you like, where you like – you're the boss!
Compare typical Lyft and Uber earnings in the graphic below for some major US markets: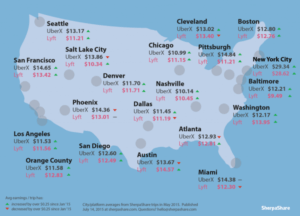 The fares can vary wildly depending on time of day and if there are events or activities that result in larger-than-normal demand. Smart partners will remain well-informed of upcoming events on local calendars that may impact the number of riders. Become familiar with the "peak" hours where you live. That's when you'll earn the most per hour, because Uber and Lyft raise their rates for customers during those times of highest demand. Uber calls this "surge pricing." Lyft calls it Prime Time. Typically, peak hours tend to be late at night or early in the morning — sometimes very late at night or very early in the morning — especially during concerts, sporting events, festivals, conventions, trade shows, etc.
Video Tip:
10 things to know before signing up to drive with Uber or Lyft:
Pros & Cons to Consider:
Uber and Lyft have revolutionized the way many people commute, get to social events, and more providing a quick, convenient and affordable alternative to taxis. Uber/Lyfts are generally clean, the drivers friendly, often often comforts previously reserved to your personal rides. And the ease of paying and/or splitting fares is awesome. Before jumping into the Uber/Lyft sphere as a new driver, consider a few of the pros and cons of your potential new side hustle:
Pros:
Probably number one for most people is the ability to be your own boss, working whenever and wherever you'd like. You certainly can't beat the flexibility! Don't feel like working one day? Well don't turn the app on. Feel like working a few hours before or after your regular day job? Go for it! Another tantalizing pro is that most anybody can do it assuming you have a smartphone and a car that's in good shape. There's no formal training or additional purchases required and you can start as soon as  you're approved! And of course, the greatest pro of all, the extra money you can earn from your new side hustle! Definitely a great way to bring home some extra cash or even to turn it into a full-time job.
Cons:
Of course, nothing is 100% great, so expect to pay commissions of around 20% off the fares you earn. And then there's the wear-and-tear on your vehicle. You'll be responsible for the maintenance required to keep your car running dependably and in good condition. Also consider that you'll be buying more gas to get your rides around town, don't forget the critical need to maintain up-to-date insurance. You'll also need to keep your car clean, inside and out, so plan on additional car washes and detailing expenses or a little elbow grease to keep it glistening without the costs of paying the car wash guys to do it for you.
Taxes:
As an independent contractor, enjoying the glory of being your own boss, you'll be responsible for paying the taxes that your employer would have – in the US it will be roughly 7.65% Social Security Tax and 1.45% for Medicare. The flip side, though, is that you'll be able to deduct expenses off your income, most usually in the form of a $0.56/mile deduction. Instead of deducting the maintenance/gas etc, you'll just depreciate $0.56/mile.
Getting Started
Ever since Uber broke onto the scene and grew to a $60bn+ valuation in eight years, startups have been touted as the Uber of this and the Uber of that, in other words, the "next big thing."
Uber is the headline act, but its mobile penetration coupled with GPS data that has been the disruptive force powering the app that has cut through the taxi industry across the world – and Uber isn't the only one using it. Uber is in a fierce battle with resident behemoth Didi Chuxing in China and other local services like Ola Cabs and GrabTaxi in Asia have a firm customer base that newcomers will find difficult to shake. Even at home in the US, Uber is facing competition from all sorts of ridesharing apps, including those that operate exactly like Uber and those with something a little different, such as connections to existing taxi fleets or highly vetted drivers to shuttle children to and from school.
San Francisco-based Lyft was founded in 2012 as a peer-to-peer ridesharing mobile app, linking folks who need a ride with private drivers. The company has raised billions of dollars in funding from investors like Andreessen Horowitz, Icahn Enterprises and Alibaba. Lyft emerged from another company, Zimride, which connected ride sharers for long trips via Facebook Connect.
According to a new survey from loan company Earnest, Lyft drivers make slightly more than Uber drivers. The median earnings for a Lyft driver are $210 per month, and the average is $377, compared to $155 and $364 for Uber. Additionally, Lyft drivers report higher satisfaction with their company than Uber drivers too. Three-quarters of the drivers in the survey said they were satisfied with Lyft.
Lyft claims to cover half of the world, after partnering with GrabTaxi, Ola and Didi Chuxing last year
Lyft also has a partnership with General Motors, which saw the firm invest $500m to work on ridesharing and autonomous vehicles
Lyft is targeting $2.7bn in gross sales in 2016
Lyft offers a $250 New Driver bonus, so if you're ready to get started, sign up now! Or, review some additional Lyft-specific details on our Driving For Lyft page first.
Helpful Tidbits:
This video has some great tips that apply to driving for either Uber or Lyft:
And another with some helpful ideas for potential Uber/Lyft drivers: