We are paid for the leads we generate for the companies advertised on our site

Another great opportunity to be your own boss and make money with you vehicle is delivering with Uber Eats. Uber Eats is on-demand food delivery from local restaurants. Customers can choose any menu item from a restaurant and drivers pick up food at the restaurant and bring the food to customers. You can sign up as an Uber Eats driver only, or you can use it to supplement your standard Uber Driver-Partner rideshare earnings.
Uber Eats also has easier vehicle requirements than regular Uber, so just about anyone can deliver for Uber Eats and earn money. You can drive whenever and wherever you want without having to work about scheduling shifts or dealing with a boss. That's a big benefit if you need flexible work right now.

Getting Paid
The payment process is automated, where Uber Eats users pay for the delivery using the Uber app, meaning you don't have to handle any cash or payment. Uber Driver-Partners are paid for each delivery based on a pickup fee, a drop-off fee, and a mileage fee,  with Uber taking a percentage cut of each order. If you have to do more than one drop off, you'll get a drop-off fee for each different address that you have to deliver to.
On top of you standard delivery payment, Uber Eats allows for in-app tipping. Customers can choose to leave you a tip after the order if complete, and after they rate you. Tipping delivery drivers is a common practice in most cities, so many Uber Eats Driver-Partners report getting both in-app or cash tip for nearly every delivery.
Pay can vary quite a bit from day to day and hour to hour, and it's crucial to work lunch and dinner rushes if you want to earn on the higher end of the pay scale.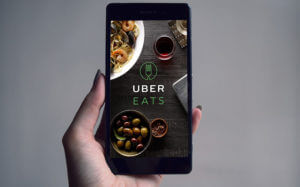 Getting Delivery Requests
When an Uber Eats delivery request comes in via your app, you get around 10 seconds to accept it. After accepting the request, you'll see the customer's location and will receive an automated text message that gives you their order details.

Delivering
Depending on your location and the order, you may not need to get out of your car to complete your delivery. A label in the app will let you know if your delivery will be curbside, where the customer comes to you, or walk-in dropoff, where you have to get out of your car and meet the customer at their address. If it's not obvious where the customer will be based on the pin, send them a text while you're on the way and ask if they have a preferred meeting spot.
 Watch this short video for some helpful info on delivering with Uber:
Helpful Hints
Peak times
The peak delivery times are 11:00 AM to 2:00 PM, and 6:00 PM to 9:00 PM. If you are an uberX partner, you would see that the busy times delivering with Uber are typically the downtimes on uberX! Our demand also increases during rain.
Delivery Bags
An insulated delivery bag will help keep hot orders hot and cold orders cold, so an insulated delivery bag can help you deliver a better experience. Uber does not provide free delivery bags to Uber Eats Driver-Partners, so you'll have to get your own. If you have a Uber Greenlight Hub in your area, you may be able to buy a cheap bag there for around $5 – $10. If there isn't a Hub near you, get one from Amazon or a grocery store. Insulated grocery bags from Amazon will do the job, and they're inexpensive.
Parking
Park your bike/car at a suitable parking spot around the drop-off location. Most restaurants will have specific places to park to make things easier.
Carrying the food out of restaurant
Always ensure packaging items, cutleries, and other disposable items are provided. Place the hot and cold items separately and ensure that the items are placed upright. Ensure that the bag is tightly secure and placed in an upright position.
Greeting the Customer
All deliveries should be made to the customer's door. When the customer opens the door, introduce yourself to make sure you're handing the right order to the right person, such as: "Curry Up Now, for Jennifer." Remember the customers will rate the experience, so it's a good idea to be courteous.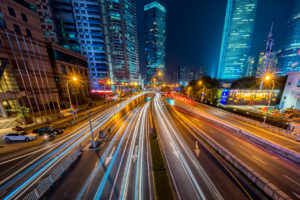 Feeling like giving Uber Eats a try? Make sure you meet the requirements below and then sign up and get started making money!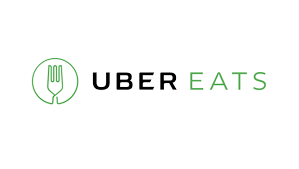 Car delivery:
Be at least 19 years old
Have a 2-door or 4-door car made after 1997
Driver's license and vehicle insurance must be valid
Have at least one year of driving experience in the U.S.
Scooter delivery:
Any make or model 2-wheel scooter
Must have motor of 50cc or less that travels no faster than 30 mph
Bike delivery:
Be at least 18 years old
Have a state-issued ID
When signing up be sure to choose 'Biking' under transportation method.
How to get started
New to Uber?
Sign up to deliver
Consent to a safety screening and upload the required documents
Once you are notified that you are active, you can begin to accept delivery requests